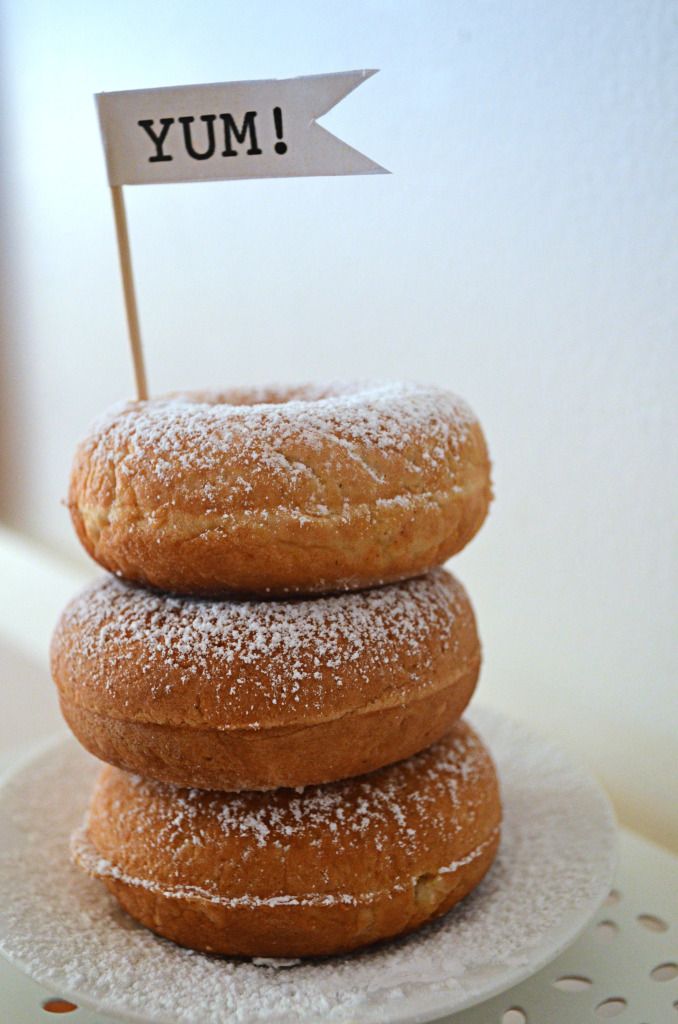 I have recently become a little obsessed with donuts there are so many different flavours and cooking methods and I think that mini donuts  are just look so darn cute. I really want to make some donuts for Maksi's birthday so I have been on a mission looking for the perfect donut recipe and after several trials I have found one.
This recipe makes donuts that are light and fluffy, but the best bit is they are baked not fried but every bit as delicious as their deep fried counterparts.
Ingredients:
1 ¼  cups all purpose flour
1 cup self-raising flour
1 teaspoon baking powder
½ teaspoon baking soda
½ teaspoon freshly grated nutmeg
½ teaspoon salt
1 large egg
½ sugar
½ cup buttermilk
1 tablespoon unsalted butter, melted
1 teaspoon vanilla extract
Icing sugar for dusting
Method:
In a large bowl, mix together the flours, baking powder, baking soda, nutmeg and salt. In another large bowl, using an electric mixer beat the egg and sugar until pale in colour. Add buttermilk melted butter and vanilla and beat until well blended. Add the flour mixture and beat until it comes together into a soft dough. Cover and refrigerate the dough for 30 minutes.
Baking :
Now there are several ways to bake these, I am using a donut maker, other wise you can use a donut tin, muffin tin or simply roll the dough into donut shapes and bake in the oven.
If baking in the oven set oven temperature to 160 degrees cooking time approx. 12minutes.
Once cooked dip the top of the donut into melted butter and then using a fine mesh sieve sprinkle icing sugar and serve.
Top with our fun food flags you can download them here
Makes about 12 donuts.
Julia xx